Dear Clowns!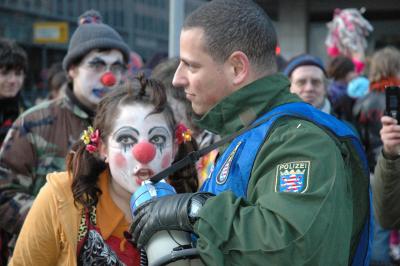 It is with great pleasure that we launch this call for an *interplanetary rebel clown army* mobilisation around the G8 summit that will take place in Germany at the start of June 2007.
The Summit will take place in *Heiligendamm*, Germany from 6th to 8th Germany. It brings together the leaders of the 8 self-decalred most powerful nations on Earth. They will plan the further domination of people and the planet...
This mail sets out a *timetable* for the events where you might be able to find other rebel clown army gaggles, and other events that you might want to get involved with!
It also includes a couple of ideas for a "*clown logic*" that we might use as the basis for actions. Feedback is very welcome, before the call gets spread much wider (once some practical things are known).
There are is some practical information, but more news will come on that.
This is not the final plan for the clowns at the G8.
It is a first attempt.
*Be creative. Send us your ideas. Tell us if you're interested in coming!
General contact point for actions:*
- beaclown@online.de
- lt_fox@gmx.net
In the run up to the summit, there are *many actions* being planned in the region.
Here is a proposal for how clowns might get involed.
*Clown Caravan*
The G8 mobilisation begins with a caravan of Rebel Clowns from Wendland to Heiligendamm. The caravan begins on 28th May, and will arrive at the Bombodrom in time to prepare the actions there. If you're interested in joining, contact:
traumzirkus@web.de or +49 (0)175 9620785
*1st June: Bombomdrom
*An action is being prepared for 1st June at the Bombodrom, an area of land that NATO wants to use as a bombing practice area. If the plans go ahead, it will be the largest and most important military area in Europe. There has been resistance against this plan by local people for many years, and the action is supported by many non-violent action groups, under the slogan: "From Bombodrom via Rostock-Laage to Heiligendamm"
This will be a great place to bring rebel clowns/clown army together, especially people who want to get to the area before the start of the summit to make some plans. The goal is a mass mobilisation of clowns.
The practical details (meeting point and time, accommodation etc.) should be known soon.
We would like to plan some common elements for this action, that bring clowns together, including some common manouvres that we can do, and common visual aspects.
A couple of ideas for Clown Logic:
*
The Clown's BomBomDrom!*
Well, dear Clowns, the actual, bad and awful B is situated in Brandenburg, nearby Wittstock, about 80 km in the NorthWest of Berlin (and about 100km away from Rostock). That is an area of the former GDR. You should like to know that the 1st of June, the main Action Day at Bombodrom, was the International Day of Children or "Children's Day" for forty years - and a lot of people are still celebrating this special day up to now. So, there will be involved some local groups to offer something special for the little participants at this Action Day - for example the "Commitee for Basic Rights" with an international collection of signatures of children which is called "Holidays from War"; or a music group called "Lebenslaute" - Sounds of Life what means also Lute of Life... That means, on one hand, the Clowns do not have to fear to become the FunProgramme for kids - and: We have to make sure that they will not stick to the lovely Clowns, because there are some "Blindgänger" (explosive rests of military stuff) on the area of the real Bombodrom which was used by the Soviet Army till 1989! (You will get strategic maps of the area...)
The Action Day is announced as the Day of New Settlement and of Civil Re-Occupation. So, on the other hand: Let us use this chance to build our own Clown's BomBomDrom! Our own playground and airport... - We could construct our own TargetPyramides. The Army set one big pyramide at their B - as the target for their destructive power - and a local female artist prepared similar wooden models of it to spread the protest wider by using this symbol: "Every target is a home" is the slogan of the protesters - and the aim is to make as much as possible of these pyramides pink!
The Clown's Bombomdrom pyramides could be of shimmering and brilliant colours and will be best scaffoldings for climbing! And - we might have our own bombs: *WaterBombs, StinkBombs, IcecreamBoms, Bonbons, ColourBombs, ConfettiBombs, SmokeBombs...*
It is also advantageous that the 1st of June is a Friday- so that people who will not have the time and space to attend the following days of the G8-Protest could also come just for that action day. And, for those Clowns who will have the energy, time and possibility: It might be the best to meet a few days before the first of June in case we will have the better accomodation together then - and to get the chance to prepare something in advance...
Two of the BicycleCaravan have also announced they are coming - the G8-Bikeride Karawane will arrive there at 24.5. and the Gr8Chaoskaravaan at 30.5.07...
*First Interplanetary Rebel Clown Army Mobilisation*
Rebel clowns from of the other 8 planets in the solar system (the P8?) are upset with the direct that the Earth is taking, and have decided to visit the G8 meeting in Heiligendamm to make their objections clear. They are especially unhappy with the emerging threat from the self-proclaimed leaders of the "rogue planet" earth, as the rest of the galaxy is organised non-hierarchically.
It is clear that "resistance from below" needs a bit of help with some "resistance from above".
The mobilisisation of an interplanetary rebel clown army obviously needs a parking space for rebel clown army space ships. And *what better place to park your space ships than the Bombomdrom*?
The pink pyramids (already a symbol of resistance at the Bombodrom) are a great "beacon" to guide the spaceships.
We can call for rebel clown army gaggles from Mercury, Venus, Mars, Saturn, Jupiter, Uranus, Neptune and Pluto.
Bring something to show which planet your gaggle is from.
[ g8andwar.de | freieheide.de | freieheide-nb.de | sichelschmiede.org | euromarches.org]
*2nd June: mass demonstration in Rostock.
*We don't propose a mass clown call for the big demonstration in Rostock, as it is too soon after the Bombomdrom action.
But, it would be good to make plans for clowns who want to go there, and to the other actions.
[ g8-germany.info | attac.de/heiligendamm07 ]
*3rd June: Agriculture action day; Start of an international week of actions against G8
*[ gendreck-weg.de | dosto.de/gengruppe/g8_2007]
*4th June: Migration action day
*[ gendreck-weg.de | dosto.de/gengruppe/g8_2007 ]
*5th June: Action at Rostock-Laage Airport
*On 5th June there will be an anti-militarist action at Rostock-Laage military airport, where many of the G8 leaders will arrive.
Clowns may move there on the way to Heiligendamm.
We could use the idea of the interplanetary rebel clown army again here.
This action (and the other actions before the G8) can be put in the context of a "sightseeing tour" for visitors from the other planets.
[ g8andwar.de | dissentnetwork.org | freieheide.de | www.freieheide-nb.de | sichelschmiede.org ]
*
Blockades are being planned for the 4th-7th, autonomous rebel clown army actions are possible.
*[
http://kreativerstrassenprotest.twoday.net/
| www.x-tausendmalquer.de | clownarmy.org ]
*7th June: Star March to Heiligendamm, from Nienhagen, Kühlungsborn, Bad Doberan, Kröpelin
*What could be a better place for our interplanetary rebel clown army guests than a "Star March"?
The clowns will pick an arm of the "Star-March", for a mass mobilisation of the clowns.
The exact plan for of action can be planned by clowns who arrive in advance.
Information on the camps and more practical info will come later via the general contacts (they have contact with camp working group), let them know if you want to receive this info! There are plans for two (or more) camps - and it is quite important which camp the clowns would chose (see the websites about the different groups and movements which are in with the preparation of the protests...)
We also plan to work out a standard training for new groups and existing groups who want to prepare for the G8.
This still needs to be worked out, but there are people who have been trained to be trainers in Gent. People from this group may be willing to travel to your region, to give this training.
*And Now... some questions for you!
*We want to know if clowns are willing to come, and with how many?
Does this action idea interest you?
What support do you need?
What support can you give? (people willing to do "office" support or practical support in the area before the action)
What format should the international call take?
Please give feedback within 2 weeks, as we plan to send an international call more widely, once more practical info is known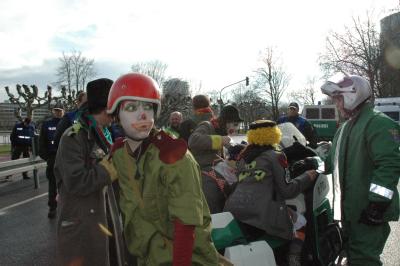 G8-CLownflyer
(pdf, 317 KB)
Arbana - 26. Feb, 10:39